Being a reptile parent may not be a walk in the park, especially for new owners. However, thanks to tortoise and turtle forums, you can engage with veteran keepers and other newbies as you learn from first-hand experiences. There are many such platforms with thousands of members, and we have assorted the best and most beneficial. 
1. Tortoise Forum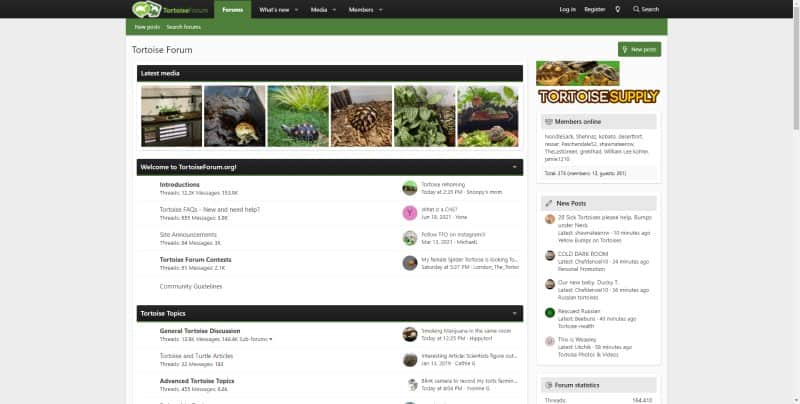 The tortoise forum is currently one of the most famous platforms, with more than 70 thousand active members and over 160,000 threads. The high participant population is handy for a first-timer, and you are sure to get all your questions answered by the most experienced keepers. If you want to join the community, you can click on this link and follow the prompts as you fill in your details. This site aims to provide all the necessary information regarding keeping tortoises, and it has succeeded in creating a family-friendly platform where anyone can get involved. 
Here, there are no priority members, and everyone has a voice. You will find around 15 categories of questions, and you can ask and react as you engage with others. Another notable feature of the forum is coordination and organization. For instance, there are statistics on member participation, and you can get reaction and message scores based on your activities. Additionally, the site's messages and answers are grouped according to the main topic to make it easier for newcomers to access the information. 
There is also a marketplace where tortoise and turtle vendors communicate. Therefore, you can also find a trustworthy buyer or seller for any tortoise or turtle-related items. Given that it has been in operation for over a decade, the site has archived some questions and answers. Therefore, you can always type your query on the "search" to quickly find it. If not present, you can still start a thread but remember to be specific to make it easier for other members to detect it and help you.
2. Reptile Forum
This site is unlike most on our list. Since its creation in 2005, the reptile forum has brought together different pet parents for a common goal, their creatures' well-being. It doesn't focus on tortoises and turtles but involves any reptile keeper. It brings together owners of lizards, snakes, and any other exotic reptile species. The community is relatively large, with more than 128,000 members from different parts of the globe. 
Currently, it has amassed more than 12 million posts from its threads and engagements. Therefore, when you join this group, you are sure to find answers. You can also get recognition for being an active member when you get many reaction scores or send more messages. We love that it is all conclusive, and you can get the tips you need regardless of the reptile you keep. In this forum, you can participate in housing, animal characteristics, care tips, type of pet species, and other relevant information.
It has also stretched its focus to other animals like exotic mammals, fish, spiders, and amphibians. Therefore, you have a one-stop site for all your needs. You will also appreciate the organized system where you quickly click on your topic and find what you want. Different creatures also have their slots, and you can scroll to select your pet type. There is also a classified section where you can find buyers or sellers of tortoise and turtle items. 
3. Reddit Tortoises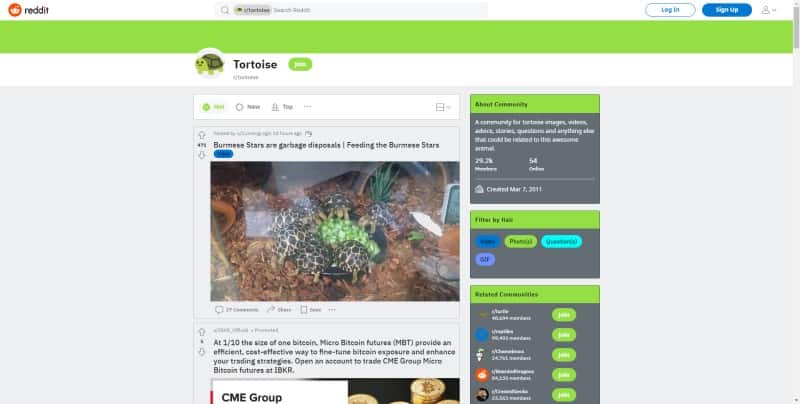 You must have heard about Reddit communities by now. There are several other such forums for different topics bringing together thousands of people. For instance, there are groups for other reptiles, including tortoise and turtle sites, and you are free to join any you deem helpful. Unlike reptile forums, Reddit groups are more specific and usually insist on a particular pet discussion. It isn't an all-in-one option, meaning that if you keep more exotic pets, you may have to join more groups. 
Secondly, the forum isn't as organized, making it quite tasking to find the information you need. However, it is still effective in its role as an online community for tortoise or turtle keepers. You can upload fascinating content about your pet, including images, stories, and videos, and show it off to others. You can also ask questions from veterans and give answers too when you can. 
Reddit tortoise forum (r/tortoises) is a relatively straightforward group with around 29,000 members but is perfect for beginners because it feels more intimate. With fewer members, you have great shots at getting the answers you need, and you have ample time to engage with the rest. R/turtle, on the other hand, has a more significant following at more than 48,000 participants. Many users find the Reddit setup more convenient because you can focus on one group based on your needs.
4. Tortoise Table
This forum will be your go-to if you want an organized site. From the home page, you have a stepwise guide to get you started as a newcomer. There is a grouping of titles alongside the number of topics and posts under the category. There is also a record of the last post to tell you about the previous participation. This group is one of the smallest on our list, with almost two thousand members, making it quite intimate. 
There are also over five thousand posts on record and nine hundred discussed topics so far. If this looks like the forum for you, you can register to be a member. The site constantly has updated information and allows the members to make event announcements or post any other helpful information to the tortoise owners. 
Thanks to the topic categorization, you can easily find the answers you need. For instance, you can find uploaded pictures and discussions about tortoise housing under the "enclosure" section or find care and maintenance tips on "general tortoise care." There is also a segment where owners upload information like pictures and characteristics of their pet species; therefore, if you are uncertain of your type of pet, you can find the details in the forum when you go through the particular species section. 
5. Hermann-Tortoise Forum
This forum gets its name from one of the most famous tortoise species, the Hermann. It is also a well-coordinated group that brings together different tortoise keepers from all around the world. It has almost 2000 participants, and they are all united by the love of tortoises. One aspect we love about the group is coordination. The admins have categorized the most pressing concerns under different umbrellas; therefore, it becomes easier to maneuver the page if you are a first-timer. 
For example, if you have a question about hibernation, you can scroll down to the category and post under the group. Similarly, if you are an expert in a field like breeding, you can click on the breeding section to help answer newbie questions. Additionally, there are categories for health, tortoise species, and you can also upload cute pet photos and videos. If you are uncertain of the type to seek under, you can always go to the search bar for directions. 
The community also focuses a lot on member profiling. There is an elaborate alphabetical list of the members and their number of posts. It can also tell you a lot about the level of experience of a reactor. There is also a post date that can notify you whether a member is a veteran keeper or a newbie. If you are looking for a close yet helpful forum, then the Hermann-tortoise may be the right forum to join.
6. Our Reptile Forum
As the name suggests, Our Reptile Forum brings together various reptile owners. It is excellent if you want to keep other pets. Consequently, it has thousands of members, and you can find all your answers regardless of your exotic species. It has a forum for beardies, geckos, chameleons, tortoises, and turtles. 
You will also love how the forum is organized for each reptile for faster navigation. Each pet category has hundreds of threads and thousands of messages, making it very convenient to find help. The tortoise and turtle segment, for instance, has almost 900 threads and over 11,000 reactions. Additionally, there are categories for various sections like care tips and general information like news and photography. 
You can also scroll to find new posts, the number of views under each, and how many people have replied. Making posts with precise details is advisable, as it increases your chances of getting your questions answered by other members. The best part is that this forum is also spreading its participation to include bird forums and more reptiles. 
7. Reddit Turtles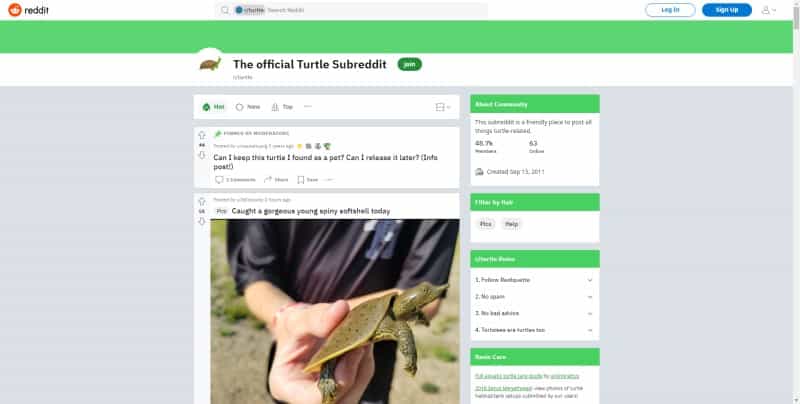 If you want to join the subreddit community for turtles, you can get a membership at no extra cost and begin to participate. Reddit is one of the major sites that deal in social web content and forums and has gained a massive following in all the groups. It has the advantage of having different communities under one umbrella, and the r/turtles focus on turtles. It is best to be a member first because you can also comment and actively participate. 
The forum also has an application that you can download from the google play store, and it has thousands of members due to its focus on specific topics. You are sure of getting reactions from experienced turtle owners and even professionals in this group since it has a massive fan base of approximately fifty thousand members. Surprisingly, you will find close to a hundred people online on this site at any single time. You can also see the posts button on the homepage and browse for responses that you require. 
8. Red Eared Slider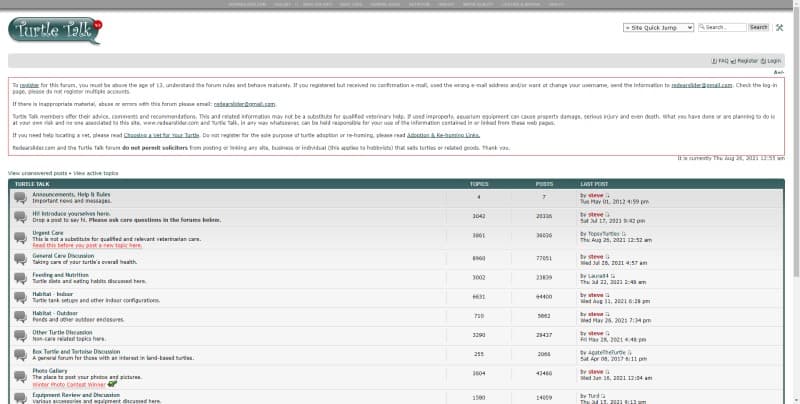 Turtles have a lot in common, and you can share with other hobbyists and reptile owners under this site. Redearedslider forum has over thirteen thousand registered users. The community covers several topics, including discussions about other species like the Box Turtles and even tortoises. Such participation makes this group a helpful forum for all the details you need about keeping and living with turtles and tortoise pets. 
Like other groups, this forum also has strict rules and regulations for healthy co-existence among members. Membership is limited to thirteen-year-olds or older, and no advertisements are allowed. These policies show how dedicated the group is only to matters concerning tortoises and turtles. The site can also help you find a professional vet for your pet or give you a link to guide you on issues like turtle adoption. 
On this page, you can view the number of participants online within the last five minutes. It will additionally tell you whether they are registered members, guests, or hidden users. You can also get the list of administrators and moderators below the home page, where you'll also find the statistics on the total posts, topics, and members. You can also find the FAQs tab on the site's dashboard, which may help you with frequent, and already answered questions to save you the hassle.
9. Turtle Forum
Animal forums are a safe space for any pet owner. You are free to ask any pressing question about your buddy and get the answers you need. The turtle's forum is one such platform that helps millions of pet parents to overcome hurdles in pet ownership. The forum has over forty thousand enrolments and more than a million posts that resonate with all matters of pet turtles. 
First, the forums tab on the menu arrangement is notable. There is an orderly flow under various subheadings beginning with the help and welcome center. Here, you will find the guidelines and policies that govern participation in this community. After the terms and conditions, you go straight to the turtle forum page, where every issue runs independently. 
For instance, there are sections for general turtle discussions and other sub-forums under each category. Therefore, it becomes easier for you to find immediate help during emergency cases. Moreover, you can also get assistance in building enclosures, purchasing turtle accessories, habitat needs, feeding, basking, and many other critical topics. Since you can also see who's online, chatting with other members about turtles also becomes simpler. 
10. Pet Forums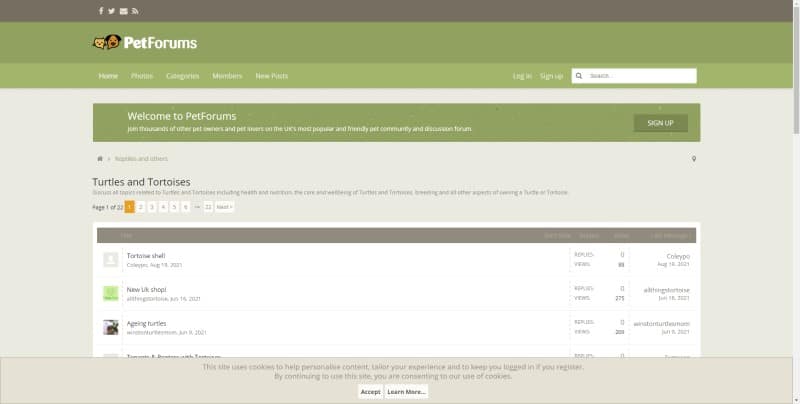 Another pet parent-friendly group is Pet forum, a UK-based platform with a massive following from pet hobbyists. On the system's dashboard, you can quickly access logins and sign up if you are a new member. The main menu on this site helps you navigate comfortably through recent posts that need answers. 
The membership is usually split into minor groups, including participants with the most posts or likes. Moreover, you can find the staff members on the same page in one tab containing the entire list of the managerial admins. Interestingly, the menu key has a categories tab with a long list of different pet-type forums you may want to direct your questions. 
Since you are a turtle or tortoise enthusiast, the best group to channel your question is the "reptile and others" category in the drop-down tab. Here, you will find the topic where individuals tackle issues relating to tortoises and turtles only, and you are sure to be directing the questions to the right group of people. If you need direct and instant replies, the site also has contacts below the page as you scroll down. 
11. All Turtles
A good turtle forum can come in handy for you, especially as a first-timer. All turtle is an excellent example of a dedicated community where you can easily find all the answers to your most burning questions. It boasts over sixty thousand participants and is a favorite among turtle owners due to its orderliness and professional setup. Once you register as a member, there are some rules and regulations to follow, showing the forum's professionalism. 
These guidelines prevent other members from being vulgar or issuing threats or hateful comments. This community has different turtle topics on the same board, and you can find routine questions about pet care under similar titles. This way, it is easier to browse for answers. There are also tabs of unanswered questions on the homepage if you are a veteran and would like to share some tips. 
Additionally, you will find the active topics key that would allow you to join discussions in progress. Like the home page, the menu also has a search button that allows filtering specific searches faster on the site. On the menu tab, you can access the management team that mans the forum and obtain details of participant names, the number of posts they have made since they joined the group, and the day and time they became members. 
Wrap Up
There you have it. These are the top eleven active tortoise and turtle forums free to join for all pet owners worldwide. If you are a newbie, these groups are user-friendly, and you are sure to get all the answers you need. On the contrary, you can also help out other keepers if you are a veteran or professional.