Unlike their friends in the wild, turtles in captivity entirely depend on you for their health and general well-being. Besides food and water, they also need a place to bask when they get cold, given that they are cold-blooded creatures. The best way to help them regulate their temperature is by providing a basking platform like the Penn Plax tank topper. There are various factors to consider when selecting the best product for your pet. Therefore, we saw the need to research further to answer all your questions as we present the top products in the market.
In this article, we're going to review the following turtle basking Platforms: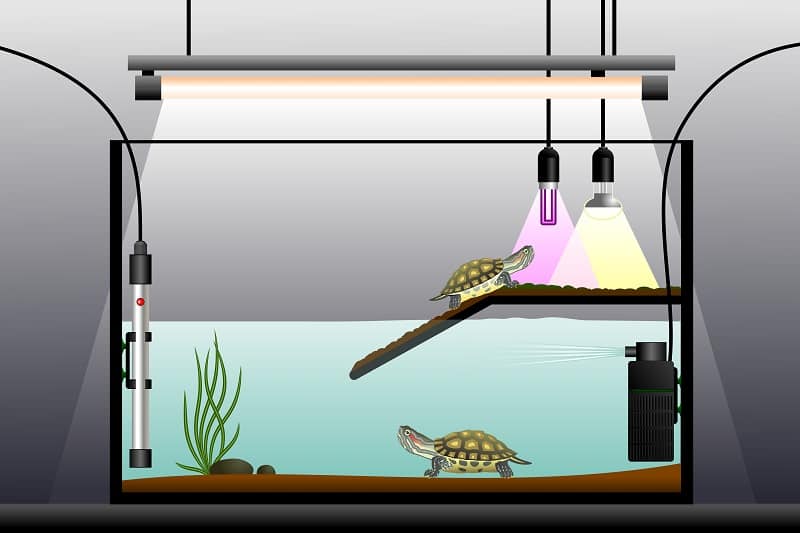 5 Best Turtle Basking Platforms Reviewed
Your turtle's rest is crucial for its health, and the best way to make them comfortable is by providing them with the best platform you can get. We want to make everything easy for you by presenting the top five products in the market based on experience and customer ratings. Please take a look at the following great platforms we found.
This platform is one of the most highly rated and well-reviewed products in the market as one of the best basking spots. It has an elegant design and adds to your tank's aesthetics by blending well with any enclosure. With the two mounting features on the side, you can always install your heat lamps for your turtle's basking needs. At first glance, you will notice that it has a closed and clear top to allow light to penetrate and an open grill for heat. The feature lets you access your pet when you want to and lets you provide food. 
The plastic cover is also durable and easy to maintain, making it one of the best products for money value. You will not have a hard time installing it, and your pet can use it right away, thanks to the suction cups. It stays on top of your tank and doesn't interfere with your turtle's swimming space. The ramp is also wide enough for ease of access, making it safe for your turtle to climb up. Moreover, it is immersible and has a rough and non-slip texture. Unlike most top platforms, this system has an underwater deck that allows your turtle to rest while underwater. It will fit in most tanks, especially the 55-gallon option, which is common among most keepers. 
Pros
It is made of tough, easy to clean, and durable material
It has an underwater platform for your turtle to rest while in the water
You can open the top cover for easy access and heat penetration
Cons
It can only accommodate small and medium-sized turtles
Some buyers express concerns that the suction cups are of low quality
If you need a sturdy yet straightforward turtle dock, the oasis turtle ramp has you covered. It is easy to clean, durable, versatile, and comes in various sizes to fit most tanks. It also works with any tank capacity since it functions with a ten-gallon and a hundred alternatives. There are two platforms, one submerged and the other raised above the water. The lower section allows the turtle to reach for the ramp and climb up to the dry area, while the higher portion enables the turtle to experience a terrestrial-like environment as it basks. 
Further, oasis platforms are easy to remove and allow cleaning and reattachment when needed. With this platform, the turtle can swim confidently, dry off and enjoy the UVB light at the top. Moreover, the dock has gripping rubber traction to ensure that your pet doesn't slip off. Another plus is that it allows light to penetrate beneath it, making it an excellent hiding spot for your pets. 
Furthermore, it has large suction cups that firmly hold the dock to withstand the turtle's weight. A small oasis platform can accommodate a four-inch-long reptile and is effective for tanks ranging between twenty to fifty gallons. If you have a bigger tank, say an eighty-gallon type, you will be sure that it will leave adequate space for your buddy to swim and waddle freely inside the tank.
Pros
It is easy to install
It is a two-in-one ramp that provides more space for your turtle
Cons
It doesn't have a feeding compartment
It is a bit pricey
This product from Zoo Med is another unique and durable platform. It comes in various dimensions to suit your tank and turtle size. The unique floating design is unlike most of our options but is still effective in its role, and you can regularly adjust it depending on your tank's shape, capacity, and water level. The self-adjusting ability to move up or down when you need it enables it to adapt to different water levels. The turtles can access it using the submerged ramp and rest at the top while basking or eating. You can easily install it, and you don't need to worry about it floating around and bothering your pets. 
All you need is to attach them to the aquarium walls using the suction cups, and they will remain intact. The only concern is its ability to hold up heavy turtles, given that it is best suited for small and some medium-sized reptiles. Besides, it works best for large aquariums or ponds. Secondly, some owners say that the wireframe connection can trap and drown hatchlings. Another safety issue is that turtles tend to nibble on it and eat the tiny bits, which can cause digestion issues.
Pros
It is easily adjustable depending on the water level
It comes in various sizes to suit your needs
Cons
The submerged wireframe is a trap hazard for hatchlings
Turtles can bite off some bits of the material
It can sink when used by a heavy turtle
This option is one of the best choices if you require a stable and transparent platform that enables you to see your pet and aquarium. It is a unique choice in our list due to its durable and great-quality acrylic plastic material, well-designed to fit in most tanks. This platform has powerful suction cups that fix the ramp in place and comfortably hold turtles weighing almost four kilograms. It also has terracing that assists turtles, especially hatchlings, to climb the dock without struggling. Moreover, the ramp has a feeding and playing area for your turtle. 
Similarly, it is wide enough to hold two tiny turtles, saving you the need to buy two similar items. Furthermore, this basking spot creates a shade underneath that the turtle can hide. Besides, it is simple to install hence suitable for anyone, including first-timers. You don't need tools to set it up; only clean the suction cups and attach them to the enclosure walls. This product is a self-contained platform, and you will notice that it is worth every penny. However, one downside is that the suction caps can lose power over time, enabling the turtle to tamper with it. 
Pros 
It is spacious and includes a feeding spot
It is made from highly durable acrylic material 
Cons
Its anchorage caps may fail with time and require replacement.
This product's unique design will capture your attention as it stands out among most floating platforms. It resembles a marine ship and has tiny stairs that act as the ramp. The lightweight wood-like materials allow it to float effortlessly and provide a solid ground for your pet to rest. It best suits a 20-gallon tank or more, and you can adjust its height accordingly if you have shallow waters. Your pet can also find it convenient to hide under it when it gets scared. Hence, the platform also fulfills the reptiles' instinct to hide. It is one of the most practical yet innovative products on our list, and you will adore its ability to lift the tank's face.
Therefore, it can serve as a decorative piece even when you want to use it in a dry terrarium. Unlike other platforms that attach to the tank sides, this product's suction cups are at the bottom. Therefore, it remains stable as it rests atop four solid pillars. You will also realize that the suction cups are more effective when you clean them and attach them to a clean surface. Due to the tiny staircase on the side, your pet can easily access the system, and the design allows for maximum stability.  
Pros 
You can use it for an aquarium or a dry terrarium
The material is non-toxic, hence pet-friendly
Cons
The design beneath it allows algae growth and waste buildup
Types of Basking Platforms
One factor to consider when selecting a basking platform is the design and type. Different manufacturers sell various products to suit each turtle's needs. They cater to your pet's safety and come in specific dimensions and materials. Let's take a look at the best platform types in the market. 
Topper Platforms
These are the most sought-after types in the market due to their incredible features. Most people usually worry about limited space in their tanks, but the toppers leave your pet enough space since they stay on the aquarium surface. As a result, your turtle gets enough swimming space and a basking area too. These types are preferred among owners due to their comfort and affordability. They are easy to set up and will take you only a few minutes of maintenance. 
Primarily, these platforms come with a ramp to help your turtle climb to the top when it needs to. This design makes them highly competitive, and a plus is that most of them look natural. You will also appreciate that they guarantee your pet's safety since they are escape-proof. If you have an adventurous turtle, you will be confident that they won't wander away. The only concern with these products is that their design only suits small and medium turtles, and it may be challenging to find one that accommodates a giant species.
Floating Platforms 
These types are the second most popular basking platforms, and they are generally cheaper than the toppers. They are also easy maintenance and have a simple design for minimalistic turtle owners. However, they are unlike other platforms in terms of functionality, and some owners find them impractical. 
The best platform should be safe, secure, and sturdy enough to withstand the turtle's weight; features which these products do not offer. They are only workable for small-sized turtles; hence, the full benefits go to hatchling owners. In some cases, even medium-sized reptiles cannot stay afloat on them. They will only serve you for a while, but you will need a more stable alternative as your turtle grows.
The Best Basking Platform Materials 
Knowing the best high-quality material for your turtle's platform is essential too. Using a low-quality material will not only interfere with the water quality but will also affect your pet. Presently, various types of basking spots from different manufacturers make it challenging to select the best. The good news is that there are accredited firms that manufacture docks using safe pet-friendly materials. Below are some of the materials that experts recommend.
Ceramic Tiles
The ceramic tiles will suit your needs if you want durability and sturdiness. Ceramic products last longer and are immune to rust and corrosion, unlike metal sheets. Regarding aesthetics, these tiles are a top choice because they are sleek and make the tank stand out. On the contrary, the material has some disadvantages. For one, it can put your pet in danger because it is heavy and can fall apart if you don't fix it firmly. Secondly, the tile lacks buoyancy and requires frequent cleaning. 
Metal Sheet
This material is durable and robust, enabling it to accommodate the turtle's weight safely.  However, an aluminum dock can last longer than pure iron. One concern among potential users is the corrosion tendency of metallic objects, but you can increase the product's lifespan by applying a coating.
Note that the protective layer should be safe for your turtle since some are highly toxic and lethal. It is best to conduct thorough research first before selecting a coat; otherwise, you will put your pet at risk of health complications, which can also be fatal. Lastly, compared to plastics, metal docks are heavier, hence would need reliable reinforcement. 
Plastics
Plastic basking spots are common among many keepers. It is most likely because it is light and doesn't have any side effects when in use. You will also realize that they are easy to install, clean, and maintain. Regardless, it is still advisable to pick a safe, non-toxic plastic platform since some of them emit lethal chemicals. 
Styrofoam
Foams make great basking spots because they are lighter than metals or tiles. Styrofoam boards come in different weights, densities, and potency but experts advise going for the sleek and durable ones of Ethylene Vinyl Acetate form. You need to be cautious with the local materials if you wish to build the dock, as some can pose a severe threat to your pet. Avoid the brittle foam and the ones that tend to crumble, leaving behind harmful particles. Ultimately, strive to buy a standard platform from trusted pet stores that sell pet equipment.
How To Choose The Best Basking Platform
Buyers always go for the product with the best features. You need to know what to look for when you go shopping for an excellent basking platform, which is why we are here to provide the essential elements to guide you in your decision.
First, it is critical to purchase a platform that guarantees your pet's safety. Consider how secure your selection is such that your pet won't easily escape. Secondly, always go for a spacious product that can accommodate your turtle; the ramp and the basking area should be wide enough because your pet will find it hard to climb or rest on the surface unless the platform has adequate space. Also, note that the system should also leave sufficient room in the aquarium. 
Secondly, the ramp should be stable and a bit rough to provide grip for accessibility by your pet. It will find it hard to climb a slippery platform, and a shaky structure will be risky. The best way to go is to find a system that can hold up to three times your turtle's weight or more if you have more pets. It is also crucial to find an option that is made of pet-friendly material. Always ensure that the product is non-toxic and doesn't pose serious health issues to your pet. 
Wrap Up
Regardless of the choice you make, ensure that your pet is always safe and comfortable. You can sieve the options we have shortlisted to find the one that will work best for your turtle and its enclosure. The most effective product among most buyers is the Penn Plax tank topper. Not only is it elegant, but it is also safe and practical for your pet's use. Although it cannot serve giant turtles, we are confident that it is one of the best products on the market. Alternatively, you can go for the Zoo Med turtle dock if you prefer the floating dock types.