When buying tarantulas, it goes without saying that you should buy from a reputable place.
But if you are new to the hobby or have been away from it for a good amount of years, it can be a little tricky to separate the good from the bad places—especially when it comes to online stores.
It is always better to know who you are dealing with, and this is exactly what we will explore in this article.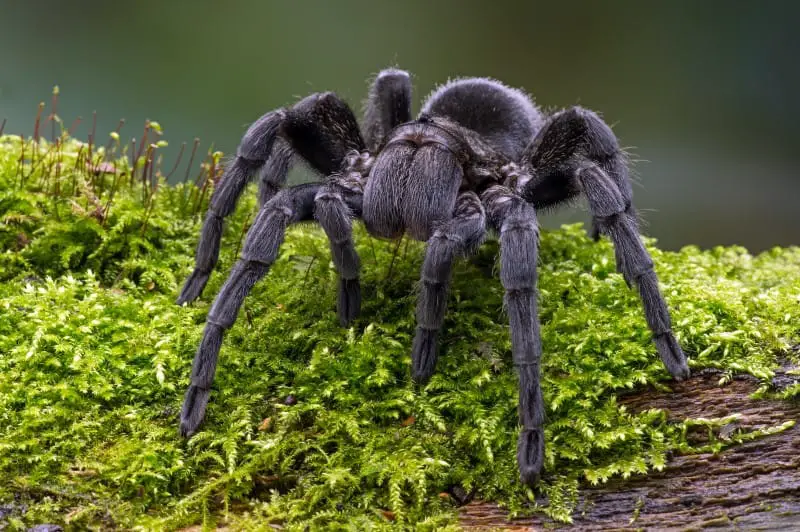 Also read: 16 Best Pet Tarantulas for Handling
Best Places to Buy a Tarantula Online in the USA
Below you will find a list of the best places to buy tarantulas online.
Jamie's Tarantulas is one of the most popular, well-known, and trusted online vendors.
The communication with Jamie has always been on point, friendly, and informational, something well-vouched by many other enthusiasts as well.
Jamie has proved that she cares for her animals. They always arrive in excellent health, and if the weather conditions are unfavorable, she will not ship, putting the wellbeing of the tarantula in the first place. 
On top of that, all tarantulas are shipped with a Live Animal Guarantee.
The orders arrive on time, and the tarantulas are always well-packed.
The website is easy to navigate. Everything is well structured and properly labeled. The information so far has always been kept up to date.
Jamie also offers a wide variety of species and excellent starter kits and bundles that will get you going immediately, and all that at very fair prices. Overall, one of the best-sellers you can buy tarantulas from.
Fear Not Tarantulas is another top-rated seller that many hobbyists have been buying from.
The website is easy to navigate. FNT offers an excellent selection of species. There's also additional information about the different tarantula species that buyers will find useful.
The communication with the seller is easy and seamless. They will not ship your tarantula until they have received a clear confirmation that you can pick up your tarantula at the time of delivery. 
The packaging is done with care to ensure the safe transportation of the tarantula. Tarantulas are shipped with a Live Animal Guarantee (LAG). And if you purchase your tarantula with the complete package, you will receive a 30 days LAG. And if you are buying a tarantula that has already molted, FNT will add a label with the exact date of molting.
FNT also offers different freebies all the time. (So it may be worth keeping an eye on current freebies. And make your purchase when the freebie is something you want.)
Ken is very popular among hobbyists for his down-to-business attitude, excellent and consistent communication, and quick deliveries.
All tarantulas are shipped with the utmost care. The packaging is done in a way to keep the tarantula as safe as possible, and if the temperatures are not appropriate, he will not send the tarantula until they get in suitable ranges.
Tarantulas that are shipped overnight come with a 24-hour Live Animal Guarantee. The buyer must be present at the time of delivery to receive the package and sign for it.
Swift's Invertebrates is one of the top retailers that are very easy to work with. Kelly Swift is very straightforward and passionate about tarantulas. He has always been extremely helpful and willing to share information that will help buyers with their purchase and subsequent care for the tarantula.
(He even offers to determine the gender of your tarantula service for free.)
Although he focuses on tarantulas, you can also find other invertebrates sold on his website. The low $20 order minimum is also worth mentioning as I am sure many buyers will appreciate it. (Often, the minimum order has to be $40 or more. And that is without the shipment costs.)
All his tarantulas are shipped well-packed, which ensures their safe arrival. As expected, he also offers a 24-hour Live Animal Guarantee.
And let's not forget the "there is always a freebie" policy he has, which is not just good marketing but also a pleasant surprise.
Anastacia at Net-Bug is another well-known seller that you can buy tarantulas from online. She is very positive, super helpful, and professional. Communication with her has always been very easy.
You will find a very nice selection of tarantulas on Net-Bug's websites. There are some popular and rare species, too. Anastacia cares for her tarantulas, and this is evident by how careful she is when shipping them.
All tarantulas are well-packed, safe, and look well. If the weather is not suitable, she will not ship them.
She is known to offer freebies often, too. On top of that, tarantulas are all sent with a Live Animal Guarantee that lasts until the end of the day of delivery.
Other
Many hobbyists prefer to look for small-scale breeders, and the classifieds section at Arachnoboards is the perfect place to do that.
Often you may be able to find a local breeder, and since you are dealing with other people and private sellers who are just as passionate about tarantulas as you are—and not a business establishment—you are also more likely to get better deals price-wise.
On top of that, there is also a feedback section where you can find more information about other people's experiences with various sellers.
TarantulaForum is another website where you can find plenty of sellers in the classifieds section.
You can also check websites like Craigslist and eBay. Another good idea is to check relevant Facebook groups. However, your mileage may vary.
Local pet shops and conventions should also not be overlooked.
As always, make sure to do your research first because people can easily get scammed when purchasing tarantulas online from unknown sellers. Because of that, it is usually better to buy from reputable and trusted online breeders.
Best Places to Buy Tarantulas Online in Canada
If you are based in Canada, then Martin at Tarantula Canada is definitely worth considering. He offers excellent service, prompt transactions, and deliveries.
He is a passionate guy who is always friendly and willing to help and share information. He cares for the tarantulas, which means that you are almost guaranteed to receive a tarantula that is in perfect health.
Even his prices are great. There is an excellent selection of species (including some rarer ones, too).
Martin also offers a Live Animal Guarantee. Overall, a great seller that knows their stuff.
This is another dealer based in Canada that has built a name for himself over the past years. In fact, they have been in the business for more than three decades now.
The seller is very patient and considerate, and he cares for his animals. Orders and transactions are usually handled very professionally and in due time without any complications or problems.
Prices may be a bit on the higher end, but they are well-justified. You will find a good selection of tarantula species on the website, including some rare and sought-after ones. If you are looking for some of the more exotic or obscure species, Arachnophiliacs is definitely worth considering.
Communication is also easy and professionally handled.
Tarantulas are well-packed and shipped safely. A Live Animal Guarantee is also offered in case something goes wrong during shipment.
Best Places to Buy Tarantulas Online in the UK
The Spider Shop is one of the top online stores where people based in the UK can buy tarantulas from.
They have built a reputation for themselves over the years, and most people also report that the communications and service from TSS have always been excellent.
TSS always has a good selection of tarantulas at very affordable prices, and best of all, they also offer a 24-hour Live Arrival Guarantee.
Martin at BugzUK is another reliable retailer that has a good standing in the community.
His prices have always been very reasonable and fair, and the service always professional. The communication is also straightforward, prompt, and to the point.
He has a good selection of tarantulas, including even some very sought-after species.
Tarantulas are packed well, and deliveries are made with a Live Animal Guarantee.
Other
Some really good deals (and breeders) can be found in the classifieds sections at ReptileForums, which is definitely a place worth checking out.
Shows and expos should also be kept in mind as sometimes it is possible to find really good deals there.
On top of that, many UK-based hobbyists tend to buy their tarantulas from EU sellers.
Can You Buy Tarantulas Online?
It used to be very different back in the days. In many cases, people interested in acquiring a tarantula had to either drive long distances in order to find a place that sells them (in some areas, it is even illegal for shops to sell venomous animals) or hope to find another breeder locally.
As it stands, today, things have changed quite a bit.
You can buy tarantulas online and today, buying a tarantula online is not something unusual. Many vendors and hobbyists are selling their stock online without that causing any unnecessary difficulties and troubles for the buyer or the tarantulas.
Is It OK for a Tarantula to Be Bought Online?
Many people will wonder if buying a tarantula online and having it shipped will be okay for it. After all, it seems like a dangerous thing to do. We are talking about live animals here, and despite their fearsome look, tarantulas can be fairly delicate.
In the vast majority of cases, it is perfectly fine and safe to buy a tarantula online. Experienced breeders always take the utmost safety measures and precautions when shipping tarantulas. They ensure each tarantula is packed safely with enough cushioning to protect it from the occasional bumps and vibrations. They often take into consideration the relative humidity and temperature swings the tarantula may experience during shipment, too.
Of course, it is possible for a tarantula not to survive the shipment, but these cases are extremely rare and few and far between.
Is It Better to Buy Tarantulas Online?
As long as you are buying from a trusted seller buying tarantulas online is completely safe and the odds of receiving a dead tarantula are extremely low.
The downsides are, of course, the fact that shipment is usually fairly expensive (it can cost more than the tarantula itself). You will also have to plan your day around it. In other words, it is best to be present at the time of delivery to receive and sign the package.
There are just more extra costs to buying a pet tarantula online. 
However, many hobbyists still do it only because it can be more convenient for them, or they may be looking for a particular and more exotic species that are not available locally.
In terms of prices, tarantulas online, on average, are not going to be more expensive. They usually are reasonably priced, and the prices will vary from species to species and location to location.
The other alternative is buying from a local pet store or breeder.
Usually, local pet stores stick to the most common species, meaning you will need to look for a breeder for the more exotic types.
Many enthusiasts notice that the living conditions of animals kept in some local pet stores are very poor. They are also not taken good care of and can look very neglected. Some of the employees there may also not have the necessary knowledge to take good care of tarantulas. It is recommended to avoid buying from such places.
That, of course, does not mean there aren't local pet shops that know what they are doing and are very knowledgeable. There are. It is just a matter of finding the right one.
Conversely, some tarantulas sold online by private sellers may have been illegally wild-caught.
Buying from local breeders, private sellers, or local conventions is also okay as long as you can trust the seller. 
However, many people may not have any local shops, events, or breeders, which leaves them with the only option to buy online.
What You Need to Know Before Buying a Tarantula Online
I cannot stress enough on how important it is to do your due diligence and research regarding who you are buying from—especially when buying online.
I strongly encourage talking to the vendor before purchasing. Ensure that they have the tarantula(s) you are interested in buying in stock.
Some websites may not be regularly updated, and the stock count may not be accurate.
Shipping Policies
Always check the shipment policies of the vendor. Since you are dealing with live animals, this is possibly the most crucial step. A little due diligence is mandatory.
Shipping tarantulas can be trickier, and you should ensure you understand the process well.
Tarantulas may be shipped out only a few days of the week (often Monday to Wednesday) to ensure quick and prompt delivery times and avoid any delays.
Shipment schedules and policies can also change depending on the local weather, holidays, and other unexpected events.
Usually, it is well worth your while to go for a more expensive one-day shipping in order to reduce the odds of losses.
Live Animal Guarantees
You want a vendor that offers a "Live Animal Guarantee" (LAG). LAG means the seller can offer different types of compensation like a replacement tarantula, a full refund, or a store credit if the tarantula is not alive on arrival.
It is essential to understand that since we are dealing with live animals being transported live and will not be cared for during the shipment, there are very strict rules regarding the LAG. In many cases, the LAG will be voided if the tarantula is not picked up immediately (or within a few hours) and not acclimated properly or cared for after pickup.
LAG can also differ from dealer to dealer; some may offer 24-hour LAG, while others can extend it to 48 hours or even more in certain instances.
Packaging
During shipment, many things can go wrong, and the packaging can offer protection to the tarantula inside.
You want to look for sellers that know their stuff when it comes to packaging.
Good packaging includes using plenty of padding and cushioning to protect the tarantula from the bumps, vibrations, and other external forces, heat or cold packs depending on the expected weather conditions, and durable and safe plastic containers.
Local Weather
If you are interested in purchasing a tarantula, you probably already know that both very low temperatures (below 45°F) and very high temperatures (above 85°F) can be very dangerous to tarantulas.
If your local weather is expected to go above or below these temperatures, it is recommended to double-check with the store's shipment policies—especially when it comes to cross-country shipping.
In some cases, it may be advisable to wait until the temperatures get in more favorable ranges or ask for the package to be held at the post office.
This means that the winter months are probably the worst time to buy tarantulas online.
Customer Support
Last but not least, I usually put the level of customer support and the amount of assistance provided by the seller in very high regard. The more customer-oriented and helpful the vendor, the better the experience will be for everybody.
Of course, you should do your own research, but there can always be situations in which the seller's extensive hands-on knowledge can and will be both unmatched and irreplaceable.
Read more: Where to Buy Feeders for Tarantulas