Now that you are thinking of getting a pet tortoise, or you already have one or two, we recommend the ROCKEVER indoor/ outdoor habitat. Investing in an enclosure gives your pet a place that resembles their natural home in the wild. It also provides peace and helps them grow healthy and happy.
With several products in the market, it is quite tasking to find the enclosure that best suits your needs. Therefore, we have narrowed down your search to a few of the best enclosures currently in the market. Read on for your ultimate guide in all matters of tortoise housing.
In this article, we're going to review the following tortoise enclosures: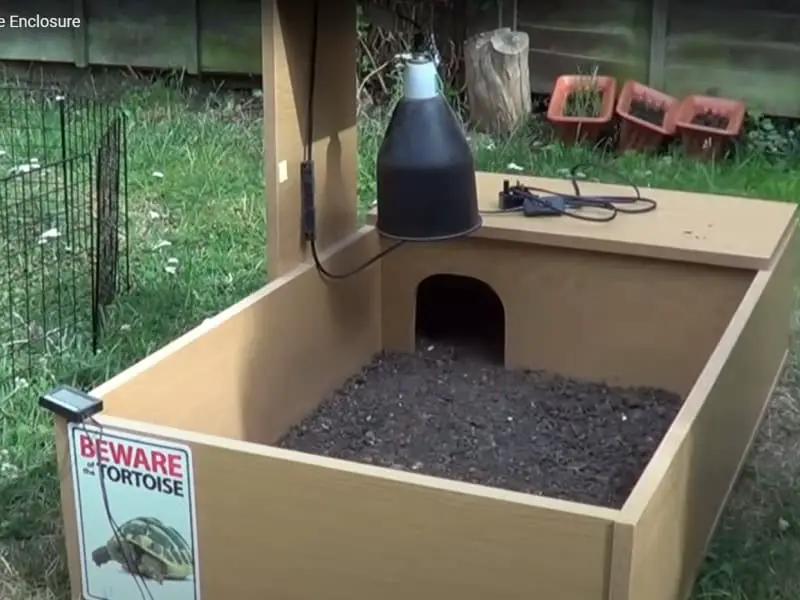 The 7 Best Tortoise Enclosures Reviews
Our recommended hutches are fun, spacious, and durable to keep your pet safe and happy as they grow. They have different price ranges and functionalities for you and your pet's needs. Let's look at each of their best features in detail to help you select the best. 
This structure combines luxury and versatility to give your pet a comfortable enclosure, great for indoor and outdoor use. It is a wooden setup measuring 36, 24, and 13 inches in length, width, and height. The wood makes it a natural eco-friendly material for housing. It consists of two separate areas, one closed for privacy, while the other is wider with mesh covering.
The closed compartment has a handle to help you open it if you wish to check in on your tortoise. The other segment is covered with a mesh and is easily retractable. It has a lockable metal latch for added safety to prevent your pet from escaping and other animals from getting inside. All you need for assembly is a screwdriver, as it comes with predrilled holes. The space is large enough to accommodate medium-sized tortoises and leaves enough room to stroll and play.
The enclosure is versatile enough to let your pet stay cozy in the house at night and have fun playing and basking during the day. You can add heat mats inside for more warmth. The structure has a hanging frame for you to place a heating and lighting system. It also helps that it has metal grills that can withstand heat. Therefore, the housing allows your pet to be safe and enable you to provide more accessories for your pet's comfort. 
 Pros
It is suitable for outdoors and indoors
It has a frame for lighting
It is spacious
Cons
It is quite pricey
It is not weather-resistant
The structure is separated into two parts; one is closed, while the other has a wired covering. The sealed compartment keeps the tort safe from harsh weather and provides safety as they hide and sleep. The other section is large and open, only covered by connected wires. When you place your tortoise outside, it has enough space to roam around and enjoy basking under the sun and fresh air. Both sections guarantee your pet's safety since they are lockable.  
The wired region gives you easy access to your tortoise when you need to monitor it or provide food. It also allows your pet to enjoy the sun's warmth when basking. On the other hand, the sealed area is convenient to keep your pet safe when it needs privacy. However, this structure is not weatherproof; hence, it is advisable not to leave it outside. A downside is that it can absorb moisture, given that it is entirely made of wood. 
The product is versatile, fit for the indoors and outdoors. Another feature that manufacturers enabled is the ability to expand it when you need to. To get more space, you can join two houses and remove the side planks to form one large enclosure. I particularly love this feature because you can house a baby tortoise and still have more room when it grows. I also appreciate that it is a natural product (wood), environmental-friendly and biodegradable. 
Pros
It is durable
It is easy to install and set up.
Cons
It is not waterproof.
It is only appropriate for small tortoise species.
For reptile parents who always want to check up on their tortoises, this tank is an excellent choice for you. The surrounding glass is clear to let you watch your pet when you need to, and it is stylish for use as a statement piece in a room. I particularly love this tank because its design captures attention, and it can function as a décor piece. It effortlessly blends with any furniture, and you don't need to worry about where to place it.
The material is tough glass; hence, UVB and infrared can easily penetrate. It also allows the retention of ideal temperature levels and is suitable for moist conditions. There is enough ventilation for your pet, and it opens up with two doors on each side. The individually opening doors allow you easy feeding while preventing your pet from escaping.
When it gets cold, you can fix a substrate heater underneath it since the tank is raised at the bottom. The sleek wall design is foam, which can mimic a natural home for your pet. Your tortoise will be comfortable and relaxed in this terrarium. Although it seems complicated, the tank is easy to assemble, and for more directions, there is a detailed manual to help. It will only take a few minutes to set it up. Although it is in the higher price range, this tank is worth every penny.
Pros
It has transparent glass walls for easy viewing
It is elegant and stylish
Cons   
It is quite pricey
It is mainly for indoor use
If you have a tight budget, the hamiledyi tank will work for you. The material is non-toxic plastic but still solid and durable. It has an in-built non-slip ramp, enabling your tortoise to climb to the ramp and bask. There are many levels in the enclosure, each with its role. Your tortoise can bask on the platform, feed in the trough, and hibernate in another section. It also has a swimming area where you can place shallow waters for your tortoise to soak in. 
It is open to allow more heat and light, and fresh air for your pet. The downside is that being open can be risky if you have other pets in the house. Similarly, it doesn't offer protection against predators when you place it outside. The good thing is it can work when your tortoise is the only pet and if you closely monitor it outdoors. The plus side is that it works within an owner's budget and comes in various colors. The plastic material is also easy to clean and doesn't absorb moisture underneath. 
Pros
It is affordable
It comes in different colors
It has a hollow and a raised platform for soaking and basking
Cons
It is open at the top; hence, does not guarantee safety
It only works for small tortoises
Unlike the Rockever indoor/ outdoor structure, this enclosure is designed for the outdoors. It is made of natural wood and comes in two segments, the private enclosed area, and the meshed section. While the covered area has a wooden floor, the other larger wired area is open at the bottom. Being open allows your pet to stroll on the ground and graze on the grass and plants. It provides a private area to hide and an open section to allow natural light to be perfect for basking. 
It is also spacious enough to accommodate medium-sized tortoises and more than one baby tortoise. Ideally, it offers enough playtime for your pet because they can interact with the environment, as they step and feel the ground underneath. In terms of safety, the wires are strong enough to keep them safe, and the hidden compartment offers a safe retreat when they need to. Similarly, the metal grate is durable and robust, able to resist the sun's intense rays.
It is easy to set up for first-time users and has predrilled holes and the items you need to assemble it. If you are going for an enclosure that will allow your pet to enjoy nature and grow healthy and strong, I would recommend this housing. The disadvantage is that the run is open; therefore, it is only suitable for outdoor use. 
Pros
It is spacious
It allows for interaction with nature
Cons
It is only for the outdoors
It is not weatherproof
If you have a small tortoise, CalPalmy is a top choice enclosure. It looks great and allows you to see through it for close monitoring of your pet. The front door is acrylic and resembles glass but without the fear of breaking. For air circulation and humidity adjustment, it comes with vent holes at the top. This keeps your tortoise safe, as it has rotating locks which function as handles too. The structure has a meshed top for UVB and any other additional accessories you need to control the heating and lighting. 
One outstanding feature about the enclosure is that it is portable and light-weight. If you plan to relocate or travel a lot, you don't have to leave your tortoise alone. The lock is secure, and the tank is easy to transport, great for trips with your pet, and you can always show your buddy off whenever you want to. For functionality, the enclosure has an in-built raised platform with a feeding tray. It is easy to access the steps, and it helps that it has a robust grip to prevent slipping.
Pros 
It is light-weight and portable
It is see-through
It is affordable
Cons
It can only accommodate small tortoises
This cage is ideal for small and medium tortoises. It has a wire mesh allowing you a clear view to see how your pet is doing. Besides, it has an enclosed space where the tort can hide when sleeping or escaping lurking predators. The enclosure is easy to assemble since it comes with predrilled holes and screws, making it an excellent starter choice. The material is also durable and fortified to guarantee security for your buddy; these features make it worth every coin you pay.
The outdoor metal wire playpen also comes with a removable bottom that you can remove or install when necessary and helps when you want to clean the cage. Besides, the open area is suitable for you and your pet to play and familiarize yourself. Moreover, the tortoise can absorb the vital nutrients from the sun through the meshed area.
Pros 
The cage is easy to assemble
It allows proper cleaning of the enclosure
It is sturdy and durable
Cons 
It cannot accommodate giant tortoises
What To Consider When Buying an Enclosure
Your pet tortoise can live for decades; therefore, it is imperative to provide it with a nice place to call home. There are several tortoise enclosures in the market, each with its specifications and designs, making it tasking to select the best option. Careful investment in the enclosures can save you a great deal on the costs of regularly buying a new cage.
Let us look at the essential factors that can guide you when purchasing a tortoise enclosure.
The Tortoise Species
There are hundreds of tortoise species, and each has a unique trait. For instance, some can grow gigantic, up to a meter, while others can only grow to a few inches even when mature. Your tortoise species will guide you in selecting a home because you will need one that accommodates it even as it gets older.
Small tortoise species like the Russian or Greek tortoises are adorable and grow slowly, with a juvenile being small enough to fit in your palm. Therefore, they may not need a bigger space, and you can keep them indoors or outdoors as you deem fit.  
On the other hand, the giant species grow fast, and they will eventually outgrow their indoor enclosures. Hence, you need to build them an enormous alternative outside. Even when you are confident that your house is spacious, you still need to provide more space to relax and roam as they take in the fresh air. Given that they get heavy, it becomes challenging to carry them outside when they need to bask. The viable option is to let them stay permanently outdoors unless the weather is not conducive. 
Additionally, when you learn more about your pet, you will understand their social skills, particularly with other tortoises. As a result, you will know which tortoise species can live in groups and which ones prefer isolation. You will then know whether to let them share an enclosure or not. 
Read more: How Much Does a Pet Tortoise Cost
The Enclosure Size
The enclosure size is also vital since you would want your pet to have enough space. The structure must accommodate the tortoise and leave more room if you need to add other accessories such as hiding spots and toys. Small-sized species like the Mediterranean Spur-Thighed Tortoises, a 3 feet by 2 feet by 1-foot enclosure will serve an adult or hatchlings. It will also suffice for the Cherry-head, Red foot, and Leopard tortoises.
Tiny enclosures may initially seem comfortable, but they will be too cramped if the species tends to grow giant, denying it enough room to be free. Notably, a small space may become dull and stressful, causing health-related issues with your pet. Since it is difficult to climb out of a secured enclosure, tortoises have to live in a tiny space unless you relocate them.
Secondly, small habitats aren't easy to clean up, and dirt buildup can lead to bacteria that cause infections to you and your pet. Therefore, it is only healthy to get a spacious enclosure.
The Enclosure Material
Tortoises are hardy animals, and some can live for a century and eventually outlive you. A suitable tortoise enclosure should be of excellent material that is healthy, durable, and comfortable. Your tort's size will determine whether you build an outdoor or indoor enclosure and consequently influence the kind of material you will use.
Wooden Cages
Wood enclosures are pretty popular among pet parents because they are readily available and pocket-friendly. One good example is the tortoise table made from hardwood a few feet above the ground.
The enclosure is ideal for small torts and has a screen roof where the animals can sit while absorbing UV light. With good care, tables can last for years before requiring replacement. Additionally, if you have construction skills, you can build a custom-made cage to suit your personal needs. 
There are also manufactured enclosures that you can find in the market, all unique and well-designed. Unfortunately, the wooden cages have some downsides. First, wood is prone to warping over time which causes cracks that can weaken your enclosure. Secondly, without proper hygiene, the animal's excrement can cause rotting, which leaves molds. 
Glass Habitats
Glass is beautiful and heartwarming since you can check on your pet without opening the cage. It also doesn't absorb moisture like wood; therefore, it comes in handy regardless of the weather conditions. A glass cage is great for housing a tortoise; however, it has its downsides. It tends to stress up your pet since they relentlessly try to go past in vain. The frustrations will irritate the animal as it will keep trying hoping to find its way. 
There are a few measures you can take to avoid stressing your little friend. First, you can tape the enclosure a few inches from the bottom of the glass and slightly above the substrate to create a visual barrier. Additionally, you can paint the tank to reduce the reptile's expansive view of the outside. Lastly, glass is a fragile material; therefore, you need to be extra careful when handling it, or it may break.
Plastic Habitats
Unlike glass enclosures, plastic hutches are light-weight, and you can easily carry them to any other part of the room without fear that you will break it. Although the plastic tubs aren't transparent, they are good at maintaining humidity levels. They are particularly exceptional for more minor torts, and you can use them for temporary needs.
For instance, you can house your pet in it in the meantime as you wait for a bigger enclosure. Similarly, it can come in handy when you need to separate a sick tortoise until it recovers. The disadvantage with these enclosures is that they are open at the top, leaving your tort exposed to bigger pets and predators. 
Durability, Safety, and Versatility 
Tortoises grow slowly and live longer, even more than humans in some species. Therefore, having a durable cage is paramount because it will save you from frequent wear and tear that will need replacing. Wood is not as durable as glass or plastic, but it can serve you for a long time if well maintained. 
Your pet's safety is paramount when choosing an enclosure, especially if it is an outdoor enclosure. Even an indoor structure should be safe if you have other pets in the house. Consider purchasing a lockable enclosure that prevents other animals from getting to your pet and, in the same light, one that prevents your pet from escaping. It will help if the enclosure top is high since some tortoises are great climbers.  
Some pet parents love to pet miniature tortoises and hatchlings. If you would rather have giant or medium-sized torts, you can insist on a cage that can serve both purposes; indoors and outdoors. These tortoises can grow bigger and outgrow the space in your house. It is more convenient to have a multipurpose enclosure that transitions from the indoors to the outdoors. 
Final Take
Based on our findings, the ROCKEVER indoor/ outdoor habitat ticked all our boxes as the best tortoise habitat. It has a retractable cover that lets you monitor your pet and makes it easier to clean up messes. It is also versatile, able to work both indoors and outdoors. It is safe, spacious, and durable; hence, saves you a lot of money in the long run. Although it is not the most affordable enclosure on my list, I still think it is worth every penny you invest. The ZOO MED tortoise house is our ideal alternative. It offers comfort, versatility and is a safe home for small and baby tortoises. It is also durable and easy to install.